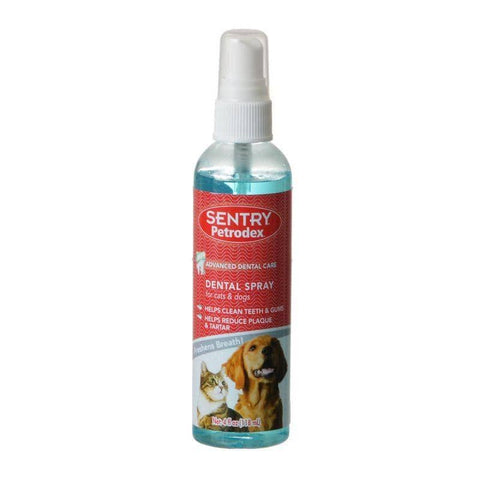 Petrodex Dental Rinse for Dogs & Cats - 4 oz
Sentry Petrodex Dental Spray for dogs and cats freshens breath and helps clean teeth and gums, while also aiding in the reduction of plaque accumulation for healthier teeth. Just spray and walk away! Freshens breath Helps clean teeth and gums Helps reduce accumulation of plaque Great for dogs and cats...
Petrodex Enzymatic Toothpaste for Dogs & Cats - Poultry Flavor - 6.2 oz
Petrodex Enzymatic Pet Toothpaste is formulated specifically to help control plaque and fight bad breath for dogs. It does not foam and doesn't need to be rinsed! With the delicious poultry flavor, your dog will love getting his teeth brushed. Original formula enzymatic toothpaste for dogs Helps reduce tartar and...
Dog dental care is essential to your dog's happiness and health. Improper care of your dog's teeth can cause bad dog breath and more serious dental related problems. The good news is that every dog owner can utilize their dog's natural behavior to maintain healthy dog dental care. Pets Go Here offers all the essentials required for proper oral hygiene. Chew toys, bones, and dry dog treats do help in cleaning your dog's teeth, but nothing compares to the act of brushing their teeth, especially at the gum line where most dental issues start to occur. Just a few minutes of daily dog dental care will add years to your dog's life. Ensure your dog's dental health with our selection of dog dental care products below including toothbrushes, finger dental brushes, oral care water additive, toothpaste and more!